Venue
The conference will be held in the historic "Spiegelsaal" of the Harmonie in downtown Bamberg.
Schillerplatz 7
96047 Bamberg
Direction from Bamberg train station (A) to the Schillerplatz (B), where the conference takes place. Please click on the map for further routing informations.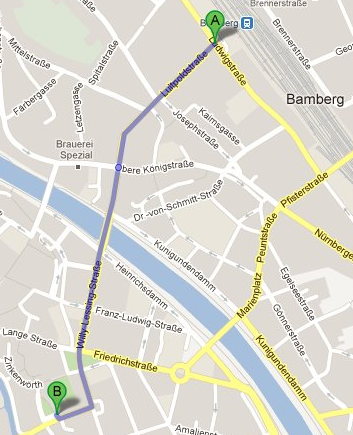 Accommodation
A block booking has been made for conference participants at the following hotels. Please book directly via the hotel www pages, noting that you are attending an event organized by the "Dr Remeis-Sternwarte". Bookings must be made before 30 April 2012 to get the prices listed below. Please note that during the time of the conference Bamberg also hosts the state garden fair and the 1000 year jubilee of the Bamberg Cathedral. Both events are expected to draw crowds, so please book as early as possible. For this reason it will also not be possible to guarantee prices after 30 April. All prices include breakfast.
single room, 45€ per night,

double room, single use, 55€ per night,

three bedroom, single use, 65€ per night.
single rooms: 55€ per night

double rooms, single use, 65€ per night,

small double rooms, single use, 60€ per night,

three bedrooms, single use, 70€ per night.
single rooms: 50€ per night,

double rooms, single use: 60€ per night,

three bedrooms, single use: 65€ per night,

two appartments (on Mittlerer Kaulberg 47), single use: 45€ per night.
All hotels are owned by the same owner; we have asked them to put you in one of the other hotels in case your desired hotel is not available.
In addition, a block booking also exists at the
Hotel Graupner
(Lange Strasse 5; +49 951 980400)
with rooms for 50 and 65 Eur per night including breakfast. For reservations, please email This e-mail address is being protected from spambots. You need JavaScript enabled to view it , giving the name of the conference.
In addition, most of the large booking engines such as
HRS
,
expedia
, or 
travelocity
 have contract hotels in Bamberg. The rooms offered by these engines tend to be in the larger and pricier hotels. The hotel booking engine of
Bamberg tourist information
(link on top right corner of the tourist information's www pages) offers rooms in many smaller hotels which are not available through the large booking engines. Be aware that some of the hotels offered through the tourist information are outside of the city proper, so check the location first before booking since public transportation to the surrounding villages might be less than optimal, especially in the evening.
If you arrive on the weekend before the conference or leave on the weekend after the conference, because of the garden show it is very difficult to find accomodation in Bamberg. For this reason we have made block bookings in downtown Nuremberg, in a location from where it is easy to get to the airport and which is close to the touristic attractions of Nuremberg. We will organize transportation to/from this hotel to Bamberg on Monday morning before the conference and on Friday afternoon after the conference. Please email Edith Day at edith.day (at) sternwarte.uni-erlangen.de your arrival and departure times if you want to make use of this block booking.